Orca Laser Blocking Curtains
Certified Laser Blocking Curtains to BS EN IEC 60825-4
Lasermet's Orca Laser Blocking Curtains are CE marked and certified to BS EN IEC 60825-4 – Safety of Laser Products, Part 4: Laser Guards. The heavy duty Orca Curtains are made of high specification laser blocking material with a sleek finish.
Made to measure
CE and UKCA marked
Ideal for medical applications
Blackout laser blocking curtain
Description
Laser Protection with Laser Safety Curtains
To ensure Class 4 and Class 3B laser beams do not escape from laser laboratory or medical facilities, including hospital theatres, certified laser blocking material should be installed. Ordinary curtains are rarely capable of stopping a laser beam and specially-designed certified laser blocking material must be used.
Laser curtains are designed as passive guards to enclose an area where lasers are in use either to protect against accidental exposure to the laser beam or for long term blocking of laser radiation at lower power densities.
Lasermet's Laser Safety Curtains are made from the company's specially developed laser blocking material and are supplied ready-made as ceiling or wall-mounted curtains.
The Orca material operates as a blackout screen as well as a laser-blocking screen and is available in several colourways:
White / Black
Black on both sides
Heavy duty curtain tracks can be supplied for smooth operation. For applications where the curtain needs to be suspended below the fixing points, high-quality cubicle curtain track is available.
MOTORISED LASER PROTECTION CURTAINS
Lasermet's laser blocking curtains can be motor powered up to a maximum run of 10m or 60kg.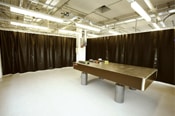 High Specification Safety
Lasermet laser-blocking Orca products are CE marked and certified to EN 60825-4 (Safety of Laser Products Part 4: Laser Guards).
Tested in accordance with NFP 92-503 (Electrical Burner Test), the material is rated as M2. When irradiated with greater than 0.5 MW/m² it will emit a non-hazardous smoke and may glow, thus indicating that a stray beam is present.
Laser radiation protection times given by the material at various power densities are shown in the specifications below.
| | | |
| --- | --- | --- |
| Irradiated Area | PEL (T3) 10S | PEL (T2) 100S |
| 4mm² | 3.9 MW/m² | 2.2 MW/m² |
| 2000mm² | 0.62 MW/m² | 0.35 MW/m² |
DIRECTIVES AND STANDARDS
Machinery Directive 2006/42/EC
EMC Directive 2004/108/EC
BS EN IEC 60825-4 Safety of Laser Products, Part 4: Laser Guards
Curtains Comparison
To select the appropriate laser blocking curtain, identify the application. If you need to discuss the suitability of the product for your requirements, Lasermet are happy to assist.
MATERIAL NAME
COLOUR
DESCRIPTION
APPLICATION
PEL RATINGS
Standard
Irradiated Area
PEL (T3) 10S
PEL (T2) 100S
Conforms to
Orca

Black / Black,
Black / White
High specification
Heavy duty
Easy to clean
Hospitals & Medical Environments
Clean Rooms
Laboratories
4 mm²
3.9 MW/m²
2.2 MW/m²
BS EN IEC 60825-4
2000 mm²
0.62 MW/m²
0.35 MW/m²
Wolf
Formerly Blackcat and Laserlight
Grey
Lower specification
Suitable for Class 3B and expanded Class 4 lasers
Cost effective
Laboratory environments
Blackout curtains
4 mm²
248 kW/m²
140 kW/m²
BS EN IEC 60825-4
2000 mm²
124 kW/m²
70 kW/m²
Additional information
Weight

1.3 kg/m²

Colour

White
Black
White/Black

Fire Rating

NFP 92-503 M2
NFPA 701 Test Method 1
ASTM E84 Class 1 / Class A