Laser Castle
Passive Laser Safety Cabin
Lasermet's Laser Castle® laser safety cabins protect personnel from the dangers of high powered laser beams by absorbing the laser power in the specially designed walls and roof. These modular, Class 1, room-sized enclosures are tested and certified to international laser safety standards and can be rapidly designed, built and installed by Lasermet.
Rapid-build modular laser safety cabins
Passive Class 1 Enclosures for Class 4 lasers
CE Certified to EN IEC 60825-4 Safety of Laser Products Part 4 – Laser Guards
Description
The Laser Castle Passive Laser Safety Cabin is supplied with Lasermet's Interlock® Control System which includes LED Warning Signs, Interlock® Controller, Interlock Switches and door maglocks, Audio Alerts (optional), and HD CCTV System (optional). An upgraded version of the Laser Castle includes the Laser Jailer system to create an Active Guarding Enclosure.
Provision is made for fume extraction systems and a lighting package, making this a cost effective and extremely easy method of enclosing the laser system to comply with international laser safety standards.
The system comprises of an enclosure made from panels constructed from passive laser safety compliant material and certified to the Laser Safety Standard EN IEC 60825-4. The panels are connected together (including a roof) to form the enclosure.
DOORS
Access into the enclosure is provided by doors made of our special laser blocking panels. Several door options are available including single or double sliding doors to provide maximum access while using minimum space. Single or double hinged doors are also available.
ILLUMINATED WARNING SIGN
A dual message, dual colour, LED laser warning sign above the door indicates the status of the laser as it is controlled by the Interlock® controller. The LED sign, including the laser warning triangle, reads "Danger Laser On" illuminated in red when the laser is powered on, and reads "No Hazard Laser Off" illuminated in green when the laser is off.
HD CCTV MONITORING SYSTEM
A CCTV system may be installed with the enclosure. Either one or two remotely controlled cameras operate inside the enclosure transmitting video to the video monitor(s) outside the enclosure. When two cameras are installed, the video monitors can be controlled to show the view from either camera using a joystick controller.
ELECTRICAL SYSTEM
The electrical wiring is run in containment channels inside the enclosure. The Laser Castle and laser safety Interlock® system is designed, manufactured, and installed by Lasermet.
EASY RELOCATION
Being a lightweight, modular design, the enclosure can be dismantled, moved to another location, and be re- assembled very quickly. The standard sized panels also enable the enclosure size to be changed. This is an ideal, flexible, lightweight solution for today's rapidly changing environment.
ACTIVE GUARDING LASER JAILER® UPGRADE
The passive cabin can be upgraded to an active laser safety cabin by specifying the Laser Jailer® Active Laser Guarding System. This patented modular system has active detector panels covering the internal walls and roof of the cabin to detect high powered laser beam strikes. If this occurs, Lasermet's fail-safe technology isolates the laser safety input in less than 50ms. The laser machine responds to this laser termination signal and the laser radiation is terminated.
APPLICATIONS
The cabins are ideal for laser welding robots that need to be contained as they typically use 4kW lasers in their operations. Higher powered lasers can also be accommodated, for example, 10kW or 20kW.
LASER CASTLE INSTALLATIONS
The Laser Castle can be fully custom designed and built to suit your needs.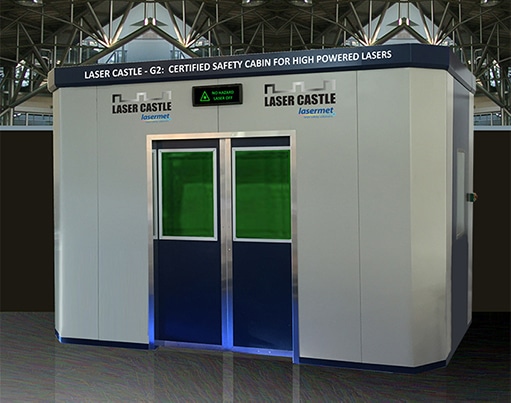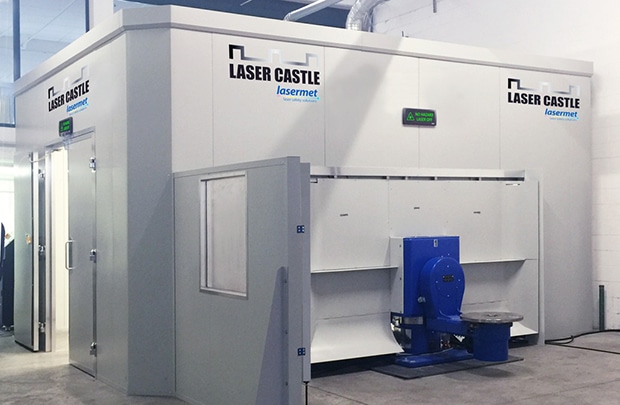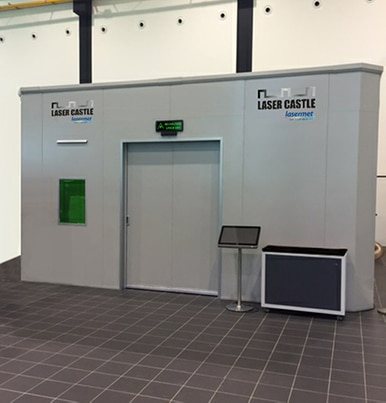 Compliance and Safety Standards
PEL RATINGS
The PEL ratings for the passive cabin are listed below.
| | | |
| --- | --- | --- |
| IRRADIATED AREA | PEL (T3) 10 S | PEL (T2) 100 S |
| 4 mm² | 310 MW/m² | 170 MW/m² |
| 2000 mm² | 3.1 MW/m² | 1.7 MW/m² |
SPECIFICATION TO THE LASER SAFETY STANDARDS ANSI Z136.1 AND IEC 60825-1
To meet the laser safety requirements of ANSI Z136.1 and IEC 60825-1, the enclosure requires a safety Interlock® control system including appropriate warning signs – both of are designed and manufactured by Lasermet.
COMPLIANCE TO EN ISO 13849-1 SAFETY OF MACHINERY: SAFETY-RELATED PARTS OF CONTROL SYSTEMS
Lasermet's ICS-9 and ICS-7-OEM Interlock® Control System meet Performance Level e (PLe) of ISO 13849-1 and is ideal for compliance to the required laser safety standard.
Control of Substances Hazardous to Health (COSHH)
FIRE
Fire can be easily extinguished in the early stages if quickly tackled with a water, CO2, dry powder or BCF extinguisher.
SMOKE AND FUMES
Burning panels give off carbon monoxide and styrene gas. The amount given off is less than that emitted by wood and other traditional construction materials in comparative tests. The smoke hazard of burning panels is similar to that of any other construction, decorating or packaging material.
CLEANING & MAINTENANCE OF PANELS
Panels may be washed down with fresh water from a hose or a bucket. Water may be heated to 60°C. A solution of fresh water and non-aggressive detergent may be used to remove heavy deposits, followed by a fresh water rinse.
CE CERTIFIED LASER BLOCKING PARTITIONS
We also supply CE certified laser blocking partitions with or without doors, for dividing one laser lab into two or more sections. These semi-permanent partitions are cost effective and extremely quick to install, without the mess and fuss of building a brick or plasterboard wall. As such they offer an alternative to traditional methods of room division, and can also be easily undone at a later date if required. Alternatively they can be left as a permanent installation.
All laser safety partitions are tested and certified to EN 60825-4.
Additional information
Laser Safety Compliance

The Laser Castle® laser enclosure (including its laser interlock system) complies with the following:
2006/42/EC 17 Machinery Directive
2014/30/EC 20 EMC Directive
2014/35/EU 20 Low Voltage Directive
IEC EN 60825-1
EN 60825-4
EN ISO 13849-1
IEC 60947-1
EN 61010-1