CALM – Control and Laser Monitoring System
Monitor and Control Laser Safety status of numerous labs from one point

Monitor and Control the following – all on large screen
Status of all Interlock Switches
Status of all E-Stops
Status of ICS-9 Interlock Controller
Status of all shutters and DBS
Wavelengths of accessible lasers
The diagram below shows the typical laser safety system equipment that can be monitored and controlled.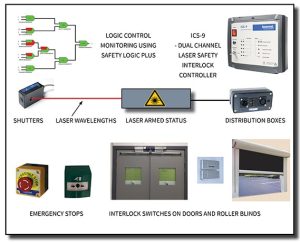 The following screens are shown depending on laser safety status
Colour coding on the messages is
Green when ICS not armed
Amber when ICS armed and all shutters/DBS closed
Red when any shutter or DBS is open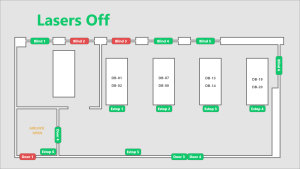 SCREEN 1: ICS not armed LASERS ARE OFF.
ROLLER BLINDS 2 AND 3 ARE OPEN
BLINDS 1, 4 AND 5 ARE CLOSED
DOOR 1 IS OPEN
ALL ESTOPS ARE CLOSED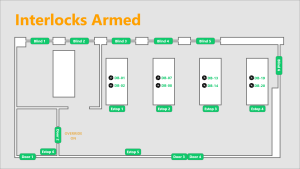 SCREEN 2: ICS armed and all shutters/ DBS closed
ALL LASER SAFETY INTERLOCK CONTROLS ARE CLOSED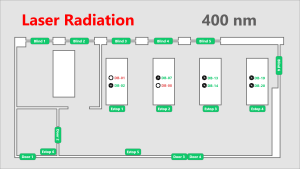 SCREEN 3: Any Shutter or DBS is open
LASERS ARE ON.
SHUTTERS DB-01 AND DB-08 ARE OPEN.
LASER WAVELENGTH 400nm IN USE
Large screen overview
Status screens
The main CALM (Control And Laser Monitoring) screen can be set to show the following example of a laser laboratory installation indicating which areas are safe and which areas are not to be entered.
Also, minimal information about the laser is shown – i.e. wavelength, power and mode of operation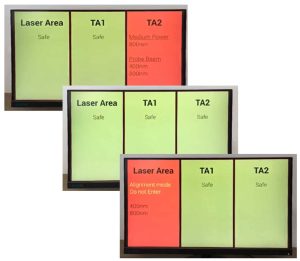 Remote control and monitoring can be carried out on a main screen.
It can also be seen on the ICS Buddy, which is a portable laser safety interlock controller.