Lucas Laser Enclosures for Optical Tables
Small Class 1 Enclosures for Class 4 Lasers - CE Certified to EN 60825-4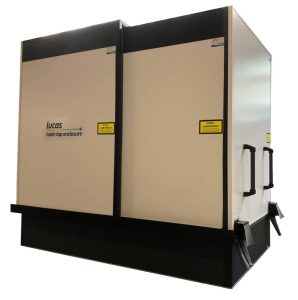 The Lucas Table Top Enclosure fits onto rails located on an Optical Table

It is provided as a flat pack so that it can be built and installed by the customer.
The end panels are attached with magnets so that they can be easily removed for access.
The enclosure sits on rails that are attached to the optical table so that either of the inner or outer units can be slid back and forth for access.
Once correctly built it is fully compliant with the laser safety standards BS EN IEC 60825-1 making it a Class 1 Product for Class 4 Lasers
It is fitted with a dual channel Interlock® Control system with an LED warning sign.
PEL ratings:
| | | |
| --- | --- | --- |
| Irradiated Area | | PEL (T2) 100 s |
| 4 mm² | | 37 MW/m² |
| 2000 mm² | | 200 kW/m² |