Dolphin laser safety curtain pod
Safety for hand held laser welders
The Dolphin Laser Safety Curtain Pod is a curtain based enclosure for hand-held laser welders

The Dolphin Laser Safety Pod is an 8ft (2.4m) cube that supports laser blocking curtains to enable users of handheld laser welding devices to work without endangering surrounding workers from laser radiation.
This is a low cost-cost solution to protect personnel outside the pod.
Lasermet's Dolphin Laser Safety Curtain pods are made from the company's latest specially-developed Dolphin laser-blocking material. The pod is an 8ft (2.4m) cube and the material is black on both sides.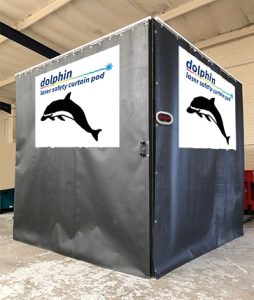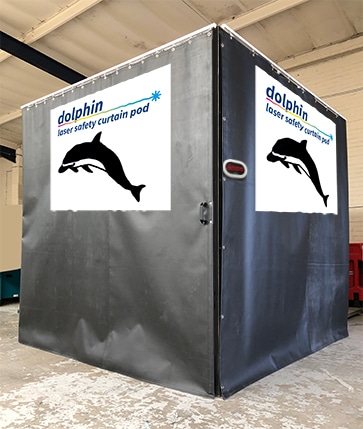 • Low-cost
• Flat-pack for easy self-assembly
• Ideal for Hand-held laser welding
• Lightweight for easy portability
• Fully interlocked
• Keeps you safe from laser radiation
• Laser only enabled to fire when door is closed
• Laser is disabled if door is opened
• Laser Interlock Controller is dual channel for added safety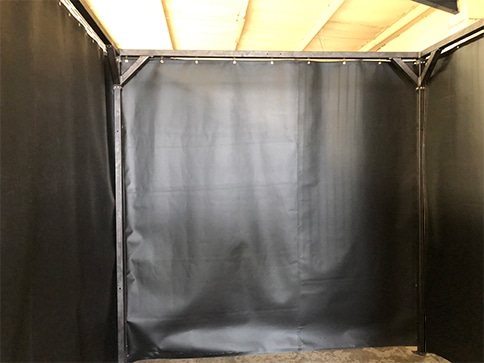 It is supplied as a low-cost, self assembly pod in flatpack form to enable easy transport and assembly by the customer. This means that it can also be dissassembled and rebuilt in a different location quickly and easily if required.
One of the walls of the pod acts as an access door which includes an interlocking device that disables the laser if it is open or unlocked. It is connected to the ICS-Solo interlock controller to ensure that the laser is only enabled once the door has been closed and the interlock engaged.
Laser radiation protection times given by the material at various power densities are shown in the specifications below.
| | | | |
| --- | --- | --- | --- |
|  Material Colour | Irradiated Area | PEL (T3) 10s | PEL (T2) 100s |
| Black | 4mm² | 3.9 MW/m² | 2.2 MW/m² |
| Black | 2000mm² | 0.62 MW/m² | 0.35 MW/m² |
The Dolphin laser safety curtains are tested and certified to international laser safety standards (IEC 60825-4 Safety of Laser Products Part 4 – Laser Guards).  The Dolphin Laser Safety Curtain Pods are ideal for small Class 4 hand held laser welding operations that need to be contained to protect surrounding colleagues.