Audio Alert
For automatic announcements, warnings, instructions or messages
Professional, compact design
Pre-programmable audio message
Adjustable message repetition and repetition frequency
Adjustable volume
Line-out to external audio equipment
Playback triggered on power up or PIR motion detection
Safe low voltage 24VDC
The Audio Alert system is a local public address system that audibly delivers a pre-programmed message when triggered. The message is heard from a speaker integrated into the compact unit, which is triggered – either by switching the unit on (by applying 24VDC), or by movement being detected by a passive infrared detector built into the unit.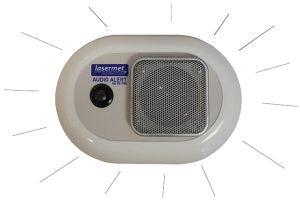 Audio Alert System with Passive Infrared Detector Part No. AA-04-PIR
The automatic audio alert system is suitable for use in indoor environments. The low voltage 24VDC sounder unit has an integral speaker and can be used either as part of an Interlock® control system or for virtually any other relevant application indoors.
The audible warning device is contained in a professionally styled, attractive Lasermet wall mounted unit, and can act as a local public address PA system where it can do the job of an announcer of audible warning messages, providing an acoustic warning to complement visual warning signs.
The provision of a talking message enables the loudspeaker feature to be incorporated into hospitals, offices, engineering establishments, doctors or dentists waiting rooms or other internal environments where audible information is required. This speaking message can be up to 40 seconds long and can be set to automatically repeat as frequently or infrequently as required up to an hour.
Institutions or businesses can use the automatic audio alert system as a sound generator to deliver an audible message. There is no need for a loudhailer or megaphone to audibly warn local personnel of dangers in the vicinity. Used as an audible information system – or local audio system – to enable messages, adverts or audio messages to be delivered when required, this mini announcer, or automatic annunciator, is triggered either by power up (24VDC) or by movement picked up by the integrated passive infrared detector, PIR. Pre-programmed at Lasermet – with virtually any message – and volume adjusted during installation on site – this speaking device has an almost limitless application indoors. This sound emitting mini loudspeaker does virtually everything an interlocked automatic audible alert system should do.
So, next time you want to automatically warn, instruct, or inform someone in the vicinity, just decide on the message, which can be up to 40 seconds long, and the frequency of delivery and we can pre-program the device to your specification. There are two models as options as follows:-
Option 1: Power triggered message delivery
Option 2: Passive infrared triggered message delivery
The volume of the audible announcement can be adjusted internally during the installation process. To prevent tampering of the volume the adjustment feature is kept within the unit.
Optional functions, which are decided at the point of ordering, include the facility to hear a single message on triggering or to have it repeated at specified intervals.
Messages can be delivered once on triggering and then repeated. It can be delayed for up to an hour. This reduces the possibility of the message becoming a nuisance. If the device is used in a temporary situation it can be returned to Lasermet to be reprogrammed with an alternative message.
The audio alert makes life easier. It can deliver verbal instructions or warnings and provide relevant information. It is safe using just 24VDC and can be linked to an Interlock® controller to provide an audible warning in addition to any visual warning being used.
This is an ideal audible warning device for a hospital, doctor's surgery, passport control area of an airport, train station, car park or wherever a queue of people may develop, or just where repetitive instruction or warning is required.
Some typical examples of customer messages include:-
"Warning – laser activated"; "Warning – x-ray machine on"
"" "Please use the hand cleanser provided"
"The doctor will see you now"; "Press the red button to launch"
"Our opening times are 9 to 5"
"Remember to visit our website, w w w dot whatever dot com"
"Welcome to our premises. Please sign in. We will be with you shortly";
"Please have your passport and boarding pass ready"
"If you have an emergency call this number"
"This area is restricted to authorised personnel only"
"Smoking is prohibited on these premises"