ICS-9 Interlock® Controller – NRTL
The ICS-9 NRTL Certified Laser Interlock® Control System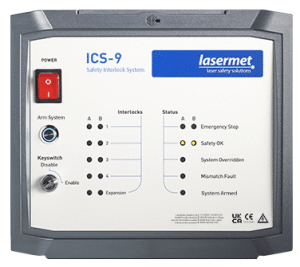 The ICS-9 Laser Interlock® Controller is the successor to the highly successful ICS-6 (which it directly replaces).
This compact unit can control laser interlocks, magnetic door locks, LED warning signs and can operate laser shutters. It enables the laser to be powered by controlling the laser safety input. It has feedback monitoring and fault detection. It can be interfaced to Access Control and Fire Detection Systems and it is fitted with an Override to allow controlled access through interlocked doors while also accepting emergency stop inputs. The override is operated either by a push-button (on the inside of a laser controlled area), or by a keypad-operated override. (e.g. KP-14)
The ICS-9 has full start-to-end dual channel architecture and fault detection to meet the latest safety standards to a much higher level than single channel systems.
It has a simple, easy-to-use control panel and can be connected directly to nine interlocks (or groups of interlocks).
The standard ICS-9 has 9 volt-free interlock operator output contacts which may be used for various purposes including:

Switching laser power
Controlling beam shutters
Operating the laser's interlock input
Controlling door locks

It is compatible with the ICS Buddy – the portable laser interlock controller. The ICS Buddy can mirror the function of the ICS-9 remotely
It has NRTL Certification and therefore approved for use throughout the USA.
OSHA's Nationally Recognized Testing Laboratory (NRTL) Program recognizes private sector organizations so they can perform certification for certain products to ensure that they meet the requirements of both the construction and general industry OSHA electrical standards.
The interlock has been tested by TÜV SÜD America Inc. to IEC 61010-1 Safety requirements for electrical equipment for measurement, control, and laboratory use. Part 1 General requirements.
The product fulfils the requirements of CAN/CSA C22.2 No. 61010-1:2012, UL 61010-1:2012 and EN 61010-1:2010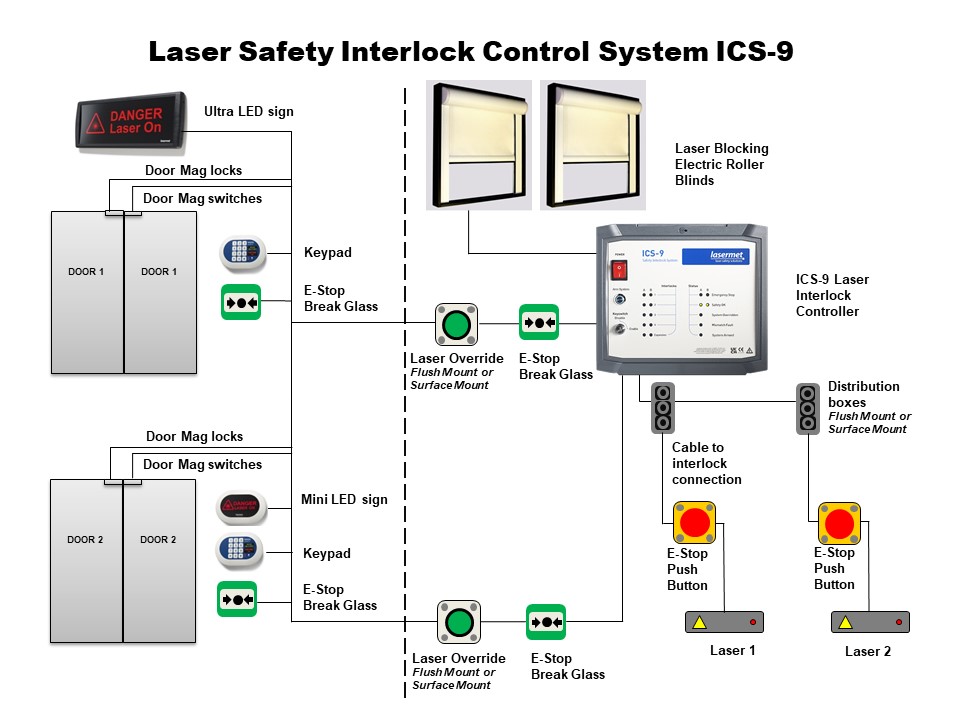 Flexible Expandable System
It is designed to achieve EN ISO 13849-1 PLe (to achieve performance level 'e')
The standard ICS-9  has a deep back box so that contactors can also be added to give interlocked 32A single phase and 3 phase mains supplies. The ICS-9 can be connected to other Lasermet Interlock® controllers to operate as a primary or secondary unit.
ICS-9 has an expansion socket and can be fitted with up to 3 expansion cards (which are automatically tested). There are 4 different types of card as follows that can be fitted:-
Typical Interlock® configuration
 
ICS-9
ICS-9 + Contactor Enhancement
Interlocked
outputs
9 x Outputs

8 A at 110/250 VAC / 50 VDC)

Configure as desired e.g.

1 off Interlocked mains output (8 A)

1 off Interlocked shutter output (for up to 6 shutters)

7 off Interlock connector operators

9 x outputs (rated at 8 A at 110/250 VAC / 50 VDC)

4 x mains outputs (rated at 32 A, 415 VAC)

Configure as desired e.g.

1 off Interlocked mains output (32 A)

1 off Interlocked 3-phase output (32 A)

1 off Interlocked shutter output (for up to 30 shutters)

8 off Interlock connector operators

 
Max output current using internal power supply 1A

Additional Power Supply provides enhanced current output

Door interlock switches
Unlimited numbers can be connected
Monitoring available for 4 switches or groups of switches
Warning light
output
110/230V or 24 VDC, 1A.  Automatic switching of single or dual message signs
Emergency Stops
Unlimited numbers of emergency stops can be connected
Can be connected into Fire Alarm or Access Control system
Supply:
110/230 V, 1A + connected load
Size
265w x 230h x 145deep mm
(10.43w x 9.06h x 5.67deep in)
Weight
3 kg  (6.6lbs)
Directives
Conforms to Machinery Directive, Low Voltage Directive, EMC Directive
Standards
NRTL Certified for use in the US.  Also meets EN ISO 13849-1 PLe (Cat 4 safety system, Performance Level 'e'), EN61508 (SIL 4), EN61010, EN60947-1