Dolphin Laser Blocking Curtains
Certified Laser Blocking Curtains to EN 12254
Lasermet's Dolphin Laser Blocking Curtains are CE marked and certified to EN 12254 – Screens for Laser Working Places. These curtains are intended to be used to stop stray laser radiation from escaping a laser-controlled area such as a laboratory, operating theatre, or other laser working area.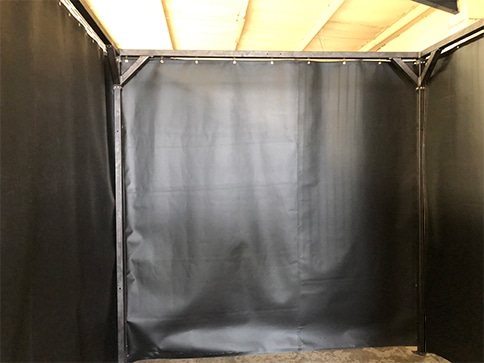 Laser Protection with Laser Safety Curtains
To ensure laser beams do not escape from the laser controlled area, certified laser blocking material should be installed. Ordinary curtains are rarely capable of stopping a laser beam and specially designed certified laser blocking material must be used.
Typical uses are over windows or as part or all of a laser enclosure. The curtain should be used to protect those outside the area from laser radiation. Those inside the laser-controlled area must wear suitable personal protective equipment (e.g. laser protective eyewear).
To provide the necessary protection level, Lasermet's laser blocking curtains are ideal. They are made from the company's specially developed laser blocking material and are supplied ready-made as ceiling or wall-mounted curtains. The material is black on both sides and will operate as a blackout screen as well as a laser-blocking screen.
Made to measure, the Dolphin Curtains are ideally suited to prevent inadvertent escapes of laser radiation within the limits specified below.
| | |
| --- | --- |
| Wavelength Range (nm) | Protection Level |
| 180 – 315 | D AB8 + IR AB3 + M AB5Y |
| 315 – 1050 | D AB6 + IR AB7 + M AB7Y |
| 1050 – 1400 | D AB5 + IR AB7 + M AB7Y |
| 1400 – 25000 | DI AB3 + R AB3Y |
Directives and Standards
Machinery Directive 2006/42/EC
EN 12254: 2012 Screens for Laser Working Places
Fire Safety EN 1598 Section 4.4