Large Area LED Signs
The "Ultra" large area backlit LED signs
High class, professional product for internal use.
Backlit LED without the pixilation found in matrix LED displays.
Ultra 470 = 470mm wide  x 178mm high
Ultra 790 = 790mm wide x 178mm high
Low energy, low voltage 24V DC (48VDC option available)
LED lifespan up to 50,000 hours
"Stackable" using the interlocking plastic trim, or the specifically designed back mounting box for up to four signs.
Low 24mm profile ideal for use at any height, virtually eliminates risk of obstruction or accident through collision.
Professional finish with textured matt black powder coating covering aluminium extrusions and tinted acrylic front panel.
"Secret Sign" – whenever the sign is not lit, the wording on the sign remains secret.
These LED Signs are Attractive, Professional, High Quality illuminated signs for wall mounted use inside buildings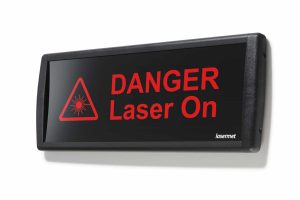 This is the Dual Message, Dual Colour Ultra 470 LED sign.
The sign can be designed to show any message or symbol in a range of colours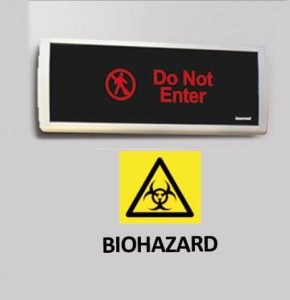 The Ultra range of signs present a high class, professional image to customers. The 470 and 790 signs are for internal use while the Ultra 580 Weatherproof signs are for external use.
Because they are backlit using LED's the display always looks smart. There is no pixilation which can occur in matrix LED displays.
Watch how this sign changes from Red to Green.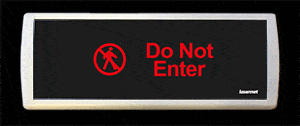 The black is surround is standard  – but this white surround is also available
LED Signs for hospitals, clean room environments and medical areas are available with a white surround as an alternative to the standard black surround.
Please specifiy this when you order.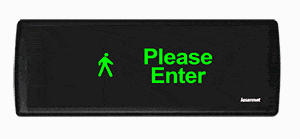 Show either of two different messages in different colours in the same space – (Dual colour – dual message)
One of the main benefits of these desirable signs is their ability to display two messages in different colours occupying the same space. This reduces the overall area required and eliminates the need to have more than one sign for the same purpose.

Customers can specify designs, shapes and wording to their own requirements, or existing standard designs can be used. Custom designs and custom wording can be specified by the end user.
Typical uses include safety critical areas, professional practices such as dentists' and doctors' surgeries, hospitals including private hospitals, hotels, offices, airports, banks, insurance companies, financial institutions, Government buildings and many more.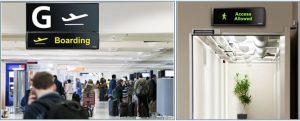 Automatic variable brightness – optional feature
When the Automatic variable brightness feature is ordered as an optional feature of the large LED signs, it enables the brightness of the Ultra range sign to vary automatically depending on the ambient lighting conditions.
In low light conditions the sign will dim down (preventing excessive glare and reducing power consumption) and in bright sunlight the sign will increase its' brightness to compensate for the increased light level. If required, the brightness of the sign can be fixed at maximum, or controlled by an external 24V DC supply. These dimmable LED signs use a light sensor to detect the surrounding light conditions and vary the light intensity of the sign accordingly.
Dual redundancy
The signs normally ship with dual LED illuminator boards, which provides redundancy in the case of LED failure. If true redundancy is required a second control board should be requested (part no: LEDS-ULT-CB). This fits inside the sign and provides true dual redundancy in the event of LED or control board failure. The sign can then be run from a single supply or dual supplies for highly safety critical applications. Monitor contacts can be provided as an option.
Power supply
Lasermet provide a 24V DC Power Supply and Switch – details of which are on the Power Supply Datasheet that can be downloaded from this page.
Standard Size:LEDS-ULT-470
Large Size:LEDS-ULT-790
Overall Dimensions (mm)
470 x 178 x 24
790 x 178 x 24
Area available for legend (mm)
340 x 90
660 x 90
Weight (kg)
2 kg
3 kg
Operating Voltage
24 VDC (optional 48VDC on request)
Brightness Control Voltage (optional)
0 – 24 VDC
Maximum current
0.65 A
1.3 A
Min operational current
0.15 A
0.3 A
Cable Entry
Rear or side (via 20 mm dia knockouts) Top or bottom entry is available when using the optional backbox
Optional Backbox size (mm)
Single: 362 x 162 x 35
Single: 682 x 162 x 35
Double: 362 x 343 x 35
Double: 682 x 343 x 35
Triple: 362 x 524 x 35
Triple: 682 x 524 x 35
Quadruple: 362 x 705 x 35
Quadruple: 682 x 705 x 35
Laser Radiation LED Warning Signs (470mm)
Single Message Sign LEDS-ULT-470-L (white) (add -R/-Y/-G for red, yellow or green)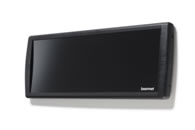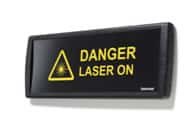 Dual Message Sign LEDS-ULT-470-L-2W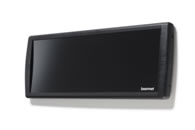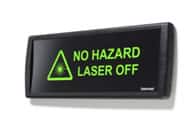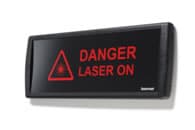 Laser Radiation LED Warning Signs (790mm)
Single Message Sign LEDS-ULT-790-L (white) (add -R/-Y/-G for red, yellow or green)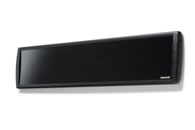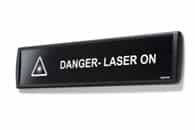 Dual Message Sign LEDS-ULT-790-L-2W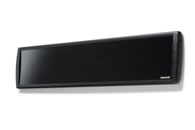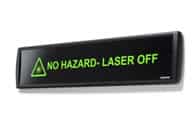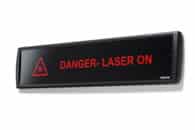 Xray LED Warning Signs (470mm)
Single Message Sign LEDS-ULT-470-XR (white) (add -R/-Y/-G for red, yellow or green)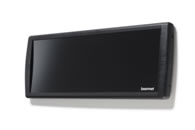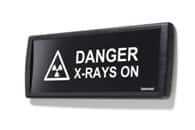 Dual Message Sign LEDS-ULT-470-XR-2W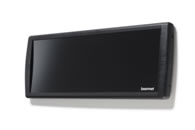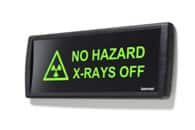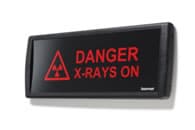 Xray LED Warning Signs (790mm)
Single Message Sign LEDS-ULT-790-XR (white) (add -R/-Y/-G for red, yellow or green)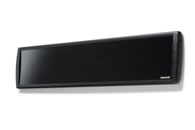 Dual Message Sign LEDS-ULT-790-XR-2W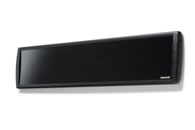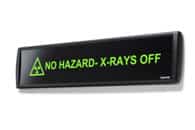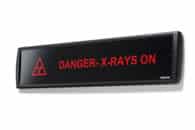 Access Prohibited LED Signs (470mm)
Single Message Sign LEDS-ULT-470-AP (white) (add -R/-Y/-G for red, yellow or green)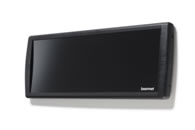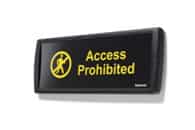 Dual Message Sign LEDS-ULT-470-AP-2W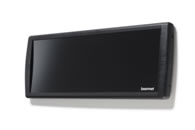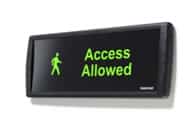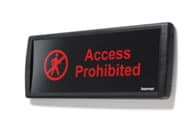 Access Prohibited LED Signs (790mm)
Single Message Sign LEDS-ULT-790-AP (white) (add -R/-Y/-G for red, yellow or green)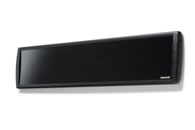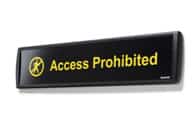 Dual Message Sign LEDS-ULT-790-AP-2W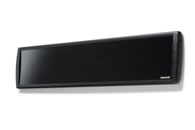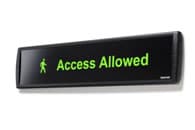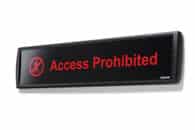 Do Not Enter LED Signs (470mm)
Single Message Sign LEDS-ULT-470-DNE (white) add -R/-Y/-G for red, yellow or green)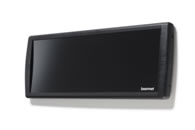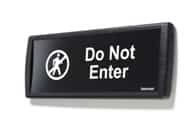 Dual Message Sign LEDS-ULT-470-DNE-2W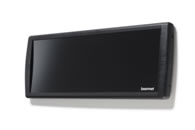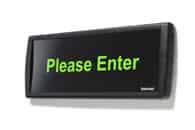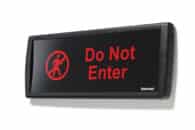 Do Not Enter LED Signs (790mm)
Single Message Sign LEDS-ULT-790-DNE (white) (add -R/-Y/-G for red, yellow or green)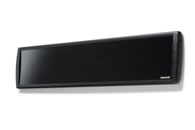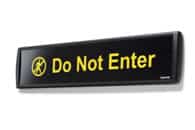 Dual Message Sign LEDS-ULT-790-DNE-2W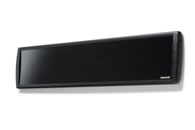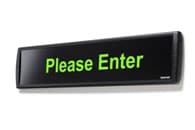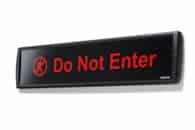 We Are Open / We Are Closed LED Signs (470mm)
Single Message Sign Open: LEDS-ULT-470-OP (white) (add -R/-Y/-G for red, yellow or green) / Closed: LEDS-ULT-470-CD (white) (add -R/-Y/-G for red, yellow or green)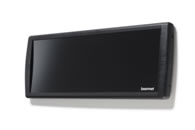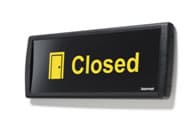 Dual Message Sign LEDS-ULT-470-CD-2W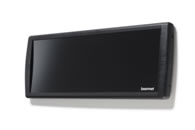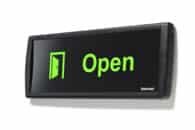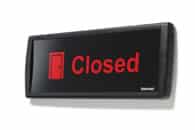 We Are Open / We Are Closed LED Signs (790mm)
Sibgle Message Sign Open: LEDS-ULT-790-OP (white) (add -R/-Y/-G for red, yellow or green) / Closed: LEDS-ULT-790-CD (white) (add -R/-Y/-G for red, yellow or green)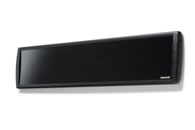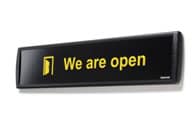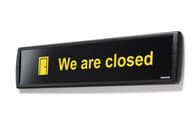 Dual Message Sign LEDS-ULT-790-CD-2W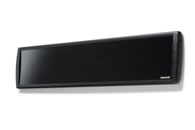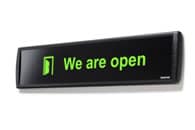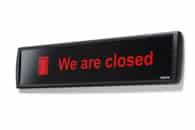 Boarding LED Signs (790mm)
Single Message Sign LEDS-ULT-790-BDG (white) (add -R/-Y/-G for red, yellow or green)