Slim Jim LED Sign
The Thin Profile Backlit LED Sign
High Quality – smart appearance
Only 11mm thick
230V AC or 110V AC
No transformer
Fits to existing mains power, single or twin socket back-boxes
Fits to conduit boxes
Cheaper and faster installation
Current 40 mA (230 VAC), 80mA (110 VAC)
DALI compatible – (Digital Addressable Lighting Interface)
Contractor friendly
Overall dimensions 355 x 105 x 11mm
Sign dimensions 275 x 58mm
Slim Jim is the thin profile backlit LED sign from Lasermet.
Measuring approximately 11mm thick, this extremely thin LED sign runs directly from 230 VAC mains power with no additional power supply or transformer.
It fits neatly onto the UK, US and European mains power single and double socket back-boxes as well as the standard conduit boxes making it easy and quick to fit for contractors.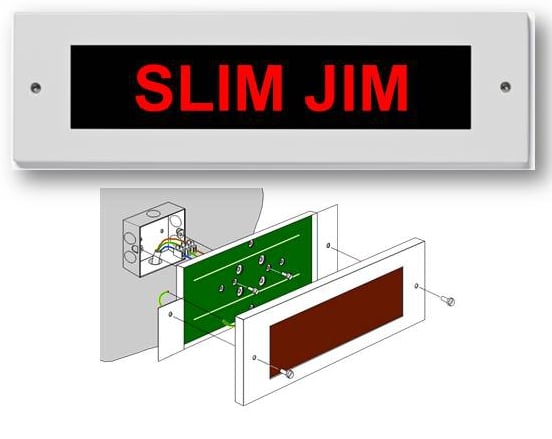 Exploded view of Slim Jim LED Sign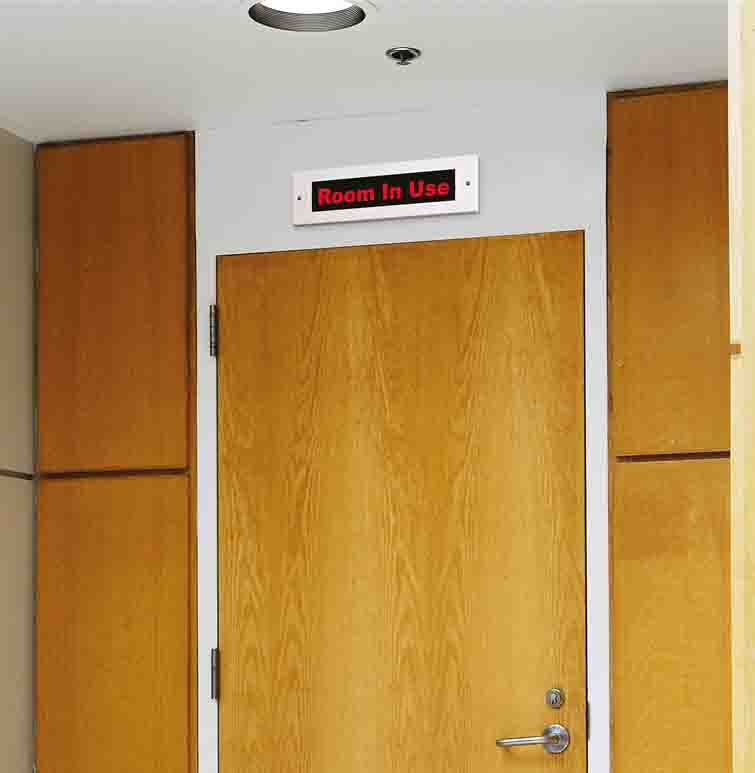 The Slim Jim LED sign is just 11mm thick
It has the option to be compatible with the DALI technical standard IEC 62386 (Digital Addressable Lighting Interface) which enables the sign to be controlled centrally.
The optional DALI compatible module sits in the 35mm back box.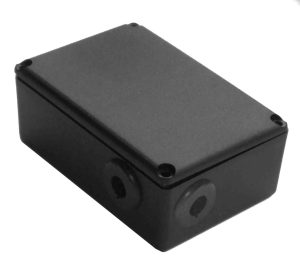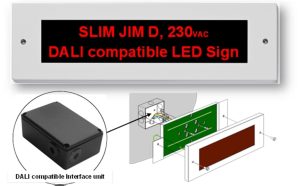 DALI compatible module
Ordering information
• Slim Jim LED Signs are available with text/graphics in a single colour
– either Red or Yellow or Blue. They are all powered by mains 230 VAC.
• There is an option to have the surround in stainless steel instead of the standard
white powder-coated finish.
• The separate DALI compatible module Part No. is DALI -1 for 230 VAC or
DALI-2 for the 110 VAC version
• For custom wording/graphics there is an artwork origination charge.
You can either Buy online or contact Lasermet for details or select the part number you require and email your enquiry to [email protected]
Appearance
Message
Part Number
Options

DO NOT ENTER
LEDS-SJ-R-DNE
Red
LEDS-SJ-Y-DNE
Yellow
LEDS-SJ-B-DNE
Blue
LEDS-SJ-SS-R-DNE
Red, Stainless Steel
LEDS-SJ-SS-Y-DNE
Yellow, Stainless Steel
LEDS-SJ-SS-B-DNE
Blue, Stainless Steel
In Use
LEDS-SJ-R-IU
Red
LEDS-SJ-Y-IU
Yellow
LEDS-SJ-B-IU
Blue
LEDS-SJ-SS-R-IU
Red, Stainless Steel
LEDS-SJ-SS-Y-IU
Yellow, Stainless Steel
LEDS-SJ-SS-B-IU
Blue, Stainless Steel
Lab in Use
LEDS-SJ-R-LIU
Red
LEDS-SJ-Y-LIU
Yellow
LEDS-SJ-B-LIU
Blue
LEDS-SJ-SS-R-LIU
Red, Stainless Steel
LEDS-SJ-SS-Y-LIU
Yellow, Stainless Steel
LEDS-SJ-SS-B-LIU
Blue, Stainless Steel
Laser in Use
LEDS-SJ-R-LAS
Red
LEDS-SJ-Y-LAS
Yellow
LEDS-SJ-B-LAS
Blue
LEDS-SJ-SS-R-LAS
Red, Stainless Steel
LEDS-SJ-SS-Y-LAS
Yellow, Stainless Steel
LEDS-SJ-SS-B-LAS
Blue, Stainless Steel
Laser On
LEDS-SJ-R-LO
Red
LEDS-SJ-Y-LO
Yellow
LEDS-SJ-B-LO
Blue
LEDS-SJ-SS-R-LO
Red, Stainless Steel
LEDS-SJ-SS-Y-LO
Yellow, Stainless Steel
LEDS-SJ-SS-B-LO
Blue, Stainless Steel
LASER RADIATION
LEDS-SJ-R-LR
Red
LEDS-SJ-Y-LR
Yellow
LEDS-SJ-B-LR
Blue
LEDS-SJ-SS-R-LR
Red, Stainless Steel
LEDS-SJ-SS-Y-LR
Yellow, Stainless Steel
LEDS-SJ-SS-B-LR
Blue, Stainless Steel
NO ENTRY
LEDS-SJ-R-NE
Red
LEDS-SJ-Y-NE
Yellow
LEDS-SJ-B-NE
Blue
LEDS-SJ-SS-R-NE
Red, Stainless Steel
LEDS-SJ-SS-Y-NE
Yellow, Stainless Steel
LEDS-SJ-SS-B-NE
Blue, Stainless Steel
OCCUPIED
LEDS-SJ-R-OC
Red
LEDS-SJ-Y-OC
Yellow
LEDS-SJ-B-OC
Blue
LEDS-SJ-SS-R-OC
Red, Stainless Steel
LEDS-SJ-SS-Y-OC
Yellow, Stainless Steel
LEDS-SJ-SS-B-OC
Blue, Stainless Steel
Room In Use
LEDS-SJ-R-RIU
Red
LEDS-SJ-Y-RIU
Yellow
LEDS-SJ-B-RIU
Blue
LEDS-SJ-SS-R-RIU
Red, Stainless Steel
LEDS-SJ-SS-Y-RIU
Yellow, Stainless Steel
LEDS-SJ-SS-B-RIU
Blue, Stainless Steel
X-RAYS ON
LEDS-SJ-R-XR
Red
LEDS-SJ-Y-XR
Yellow
LEDS-SJ-B-XR
Blue
LEDS-SJ-SS-R-XR
Red, Stainless Steel
LEDS-SJ-SS-Y-XR
Yellow, Stainless Steel
LEDS-SJ-SS-B-XR
Blue, Stainless Steel
The following Part numbers are for the US market using 110VAC
Appearance
Message
Part Number for 110 VAV signs
Options

DO NOT ENTER
LEDS-SJ-110-R-DNE
Red
LEDS-SJ-110-Y-DNE
Yellow
LEDS-SJ-110-B-DNE
Blue
LEDS-SJ-110-SS-R-DNE
Red, Stainless Steel
LEDS-SJ-110-SS-Y-DNE
Yellow, Stainless Steel
LEDS-SJ-110-SS-B-DNE
Blue, Stainless Steel
In Use
LEDS-SJ-110-R-IU
Red
LEDS-SJ-110-Y-IU
Yellow
LEDS-SJ-110-B-IU
Blue
LEDS-SJ-110-SS-R-IU
Red, Stainless Steel
LEDS-SJ-110-SS-Y-IU
Yellow, Stainless Steel
LEDS-SJ-110-SS-B-IU
Blue, Stainless Steel
Lab in Use
LEDS-SJ-110-R-LIU
Red
LEDS-SJ-110-Y-LIU
Yellow
LEDS-SJ-110-B-LIU
Blue
LEDS-S-110J-SS-R-LIU
Red, Stainless Steel
LEDS-SJ-110-SS-Y-LIU
Yellow, Stainless Steel
LEDS-SJ-110-SS-B-LIU
Blue, Stainless Steel
Laser in Use
LEDS-SJ-110-R-LAS
Red
LEDS-SJ-110-Y-LAS
Yellow
LEDS-SJ-110-B-LAS
Blue
LEDS-SJ-110-SS-R-LAS
Red, Stainless Steel
LEDS-SJ-110-SS-Y-LAS
Yellow, Stainless Steel
LEDS-SJ-110-SS-B-LAS
Blue, Stainless Steel
Laser On
LEDS-SJ-110-R-LO
Red
LEDS-SJ-110-Y-LO
Yellow
LEDS-SJ-110-B-LO
Blue
LEDS-SJ-110-SS-R-LO
Red, Stainless Steel
LEDS-SJ-110-SS-Y-LO
Yellow, Stainless Steel
LEDS-SJ-110-SS-B-LO
Blue, Stainless Steel
LASER RADIATION
LEDS-SJ-110-R-LR
Red
LEDS-SJ-110-Y-LR
Yellow
LEDS-SJ-110-B-LR
Blue
LEDS-SJ-110-SS-R-LR
Red, Stainless Steel
LEDS-SJ-110-SS-Y-LR
Yellow, Stainless Steel
LEDS-SJ-110-SS-B-LR
Blue, Stainless Steel
NO ENTRY
LEDS-SJ-110-R-NE
Red
LEDS-SJ-110-Y-NE
Yellow
LEDS-SJ-110-B-NE
Blue
LEDS-SJ-110-SS-R-NE
Red, Stainless Steel
LEDS-SJ-110-SS-Y-NE
Yellow, Stainless Steel
LEDS-SJ-110-SS-B-NE
Blue, Stainless Steel
OCCUPIED
LEDS-SJ-110-R-OC
Red
LEDS-SJ-110-Y-OC
Yellow
LEDS-SJ-110-B-OC
Blue
LEDS-SJ-110-SS-R-OC
Red, Stainless Steel
LEDS-SJ-110-SS-Y-OC
Yellow, Stainless Steel
LEDS-SJ-110-SS-B-OC
Blue, Stainless Steel
Room In Use
LEDS-SJ-110-R-RIU
Red
LEDS-SJ-110-Y-RIU
Yellow
LEDS-SJ-110-B-RIU
Blue
LEDS-SJ-110-SS-R-RIU
Red, Stainless Steel
LEDS-SJ-110-SS-Y-RIU
Yellow, Stainless Steel
LEDS-SJ-110-SS-B-RIU
Blue, Stainless Steel
X-RAYS ON
LEDS-SJ-110-R-XR
Red
LEDS-SJ-110-Y-XR
Yellow
LEDS-SJ-110-B-XR
Blue
LEDS-SJ-110-SS-R-XR
Red, Stainless Steel
LEDS-SJ-110-SS-Y-XR
Yellow, Stainless Steel
LEDS-SJ-110-SS-B-XR
Blue, Stainless Steel
Signs without overlays
All standard parts are made up from the signs without overlays, plus the overlay. Part numbers for Signs without overlays are as below:
| | |
| --- | --- |
| Type | Part No |
| 230 VAC Red | LEDS-SJ-R |
| 230 VAC Yellow | LEDS-SJ-Y |
| 230 VAC Blue | LEDS-SJ-B |
| 110 VAC Red | LEDS-SJ-110-R |
| 110 VAC Yellow | LEDS-SJ-110-Y |
| 110 VAC Blue | LEDS-SJ-110-B |