Lasermet's Laser Castle Enclosure safely contains laser radiation at Sellafield
Sellafield Ltd is the legal entity responsible for Sellafield, which is owned by the Nuclear Decommissioning Authority.
Sellafield has led the development of the UK's nuclear industry, from the production of plutonium for the country's nuclear deterrent programme through to the development of nuclear power generation. Today it is faced with the challenge of cleaning-up the legacy of the site's early operations, including some of the most hazardous nuclear facilities in Europe.
Sellafield is home to the oldest nuclear facilities in the UK and it is focusing its efforts on safely accelerating the clean-up of the oldest facilities.
Sellafield is based in Cumbria in the North West of England
Glovebox size reduction
One of challenges being overcome is to decommission gloveboxes which are contaminated with alpha emitters. The glovebox is a sealed container designed to allow manipulation of objects in a separate atmosphere.
Gloveboxes used for research, development and operations that have come to the end of their life will be decommissioned as part of the site's clean-up programme.
Many of these are contaminated with alpha-bearing material and current decommissioning plans include manual techniques which are often hazardous and time consuming. There is a driver to address this challenge using alternative technologies to deliver safer, more efficient decommissioning at a lower cost.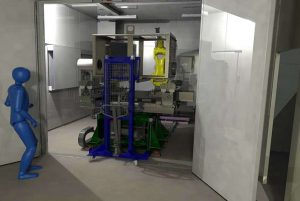 View of the enclosure where all of the internal surfaces (including the doors) have Laser Jailer active guarding fitted.
A facility for reducing the size of gloveboxes has been built in an existing laboratory on the Sellafield site. The facility is enclosed by Lasermet's Laser Castle – laser safety enclosure. This self-contained laser cutting facility will reduce the risk to operators during remote
size reduction of alpha contaminated gloveboxes.
This includes a laser cutting system mounted on a six degrees of freedom robotic arm with recovery of waste and minimum human intervention all housed within the Laser Castle. Read the complete Case Study…