ICS-6 ELISe Interlock® Controller
The ICS-6 "ELISe" (Expandable Laser Interlock® System 'e')
3 Expansion card sockets
The card types enable Integrated Active Laser Guarding (Laser Jailer), Safety Logic Plus integration, (for complex logic circuits and large numbers of Interlock® switches), and Ethernet/USB Connectivity which in turn enables ICS-6 interlocks to be monitored remotely – a real bonus to safety communications .
Full start-to-end dual channel architecture – for even higher reliability
Full start-to-end fault detection – simplifying analysis
Interlocked mains supply – for added safety
Interlocked low voltage supply for beam shutters – for faster integration
Laser Interlock® connector operators – for all lasers
Key-switch operation – to prevent unauthorised use
Arm laser button – just press to arm
Time limited fail-safe override option – for authorised personnel
Automatic switching of illuminated signs – indicating danger or safe modes
Emergency stop circuit – to prevent injury or damage in an emergency
Please note that as from December 2021, the ICS-6 is replaced by the ICS-9 (which is almost identical except that it has NRTL test certification for the US, and it is fully compatible with ICS Buddy). You should visit the ICS-9 page now as this page remains for reference purposes only.
The ICS-6 "ELISe" Expandable Laser Interlock® System (to achieve performance level 'e') is designed to achieve EN ISO 13849-1 PLe.
The ICS-6 is the latest in the ICS Interlock® series, which is the most popular Laser Interlock® Control System designed and manufactured by Lasermet. This latest version is expandable and has, as one of its options, a remote monitoring facility.
This compact, versatile unit can control laser interlocks, door locks, illuminated warning signs and other equipment. It can operate beam shutters and the laser power with feedback monitoring and fault detection. It can be interfaced to Access Control and Fire Detection Systems and is fitted with an Override to allow controlled access through interlocked doors while also accepting emergency stop inputs.
The ICS-6 provides even higher levels of safety and functionality and has full start-to-end dual channel architecture and fault detection to meet the latest standards.
It has a simple, easy-to-use control panel which can be wired directly to 4 interlocks or groups of interlocks.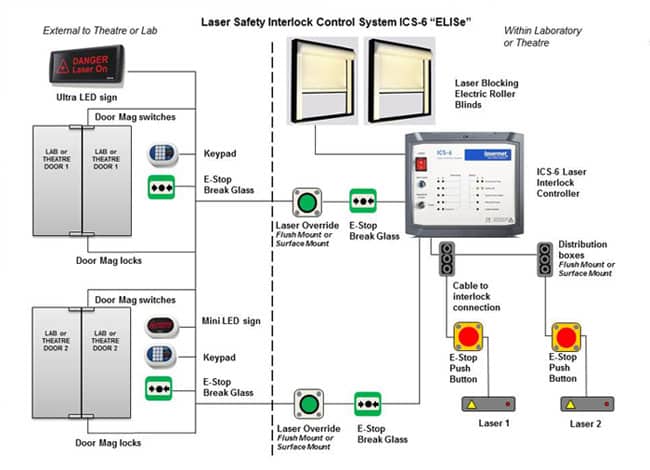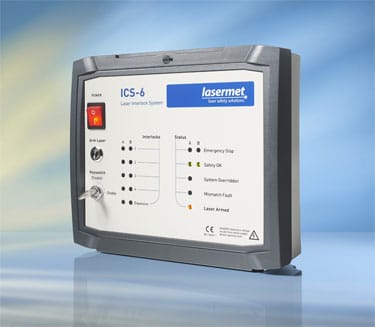 Flexible Expandable System
Lasermet's Interlock® controllers have earned a reputation as cost effective, reliable and highly flexible.
The standard ICS-6 can be expanded to have 9 Interlock® outputs by adding the IB9 Interlock® board. And by using the deep back box, contactors can also be added to give interlocked 32A single phase and 3 phase mains supplies. ICS-6 can be connected to other Lasermet Interlock® controllers to operate as a master or slave unit.
ICS-6 has an expansion socket and can be fitted with up to 3 expansion cards (which are automatically tested). There are 4 different types of card as follows that can be fitted:-
Integrated Active Laser Guarding option
Safety Logic Plus integration option
Ethernet/USB Connectivity
Uncommitted relay expansion card
Typical Interlock® configuration
 
ICS-6
ICS-6 + IB9
Enhancement
ICS-6 + IB9 +

Contactor Enhancement

Interlocked
outputs
3 x outputs

(rated at 6A at 110/250 VAC / 50 VDC)

Configure as desired e.g.

1 off Interlocked mains output (6 A)

1 off Interlocked shutter output

(for up to 4 shutters)

1 off Interlock® connector
operator

8A at 110/250 VAC / 50 VDC)

Configure as desired eg.

1 off Interlocked mains output (8 A)

1 off Interlocked shutter output

(for up to 6 shutters)

7 off Interlock® connector
operators

8 x outputs

(rated at 8A at 110/250 VAC / 50 VDC)

4 x mains outputs

(rated at 32 A, 415 VAC)

Configure as desired e.g.

1 off Interlocked mains output (32 A)

1 off Interlocked 3-phase output (32A)

1 off Interlocked shutter output

(for up to 30 shutters)

7 off Interlock® connector operators

Door interlock

switches

Unlimited numbers can be connected

Monitoring available for 4 switches or groups of switches

Warning light
output
110/230V or 24 VDC, 1A.  Automatic switching of single or dual message signs
Emergency

Stops

Unlimited numbers of emergency stops can be connected

Can be connected into Fire Alarm or Access Control system

Supply:
110/230 V, 1A + connected load
Size
265w x 230h x 86deep (mm)
265w x 230h x 145deep (mm)
265w x 230h x 145deep (mm)
Weight
2 kg
2.2 kg
3 kg
Directives
Conforms to Machinery Directive, Low Voltage Directive, EMC Directive
Standards
Meets EN ISO 13849-1 PLe (Cat 4 safety system, Performance Level 'e'), EN61508 (SIL 4), EN61010, EN60947-1