Faceshields – reusable PPE
Protective face shield – reusable PPE
This product is superseded by Lasermet's UK manufactured Faceshield
Please visit the page on the above link. The following text is for reference only.
• This is a high quality, CE marked product using
300 μm PET (cf 180 μm used for most alternatives)
• The product can be reused after cleaning

• Please now order updated Lasermet Part Number LMX-FSH-1
• One size fits all head sizes in the range 54-64 cm
• Fix to your head with elastic strap
• Faceshield, 0.3 mm, inside fog-free
• Soft foam inner padding ensures comfort for prolonged continuous use
• Helps to keep the face free from dirt and liquids
• Suitable for keeping the face free from contamination of body fluids such as blood
• Not suitable for protection against mechanical hazards, such as flying particles
• Space-saving flat-fold packaging
Specification
Headband Material Textile elastic band/strap
Headband Colour White
Shield Material PET (Polyethylene terephthalate)
Shield Thickness 0.3mm
Shield Coating Inside anti-fog coating
Shield Colour Transparent
Dimensions 330 x 230 mm (wxl)
Weight 50 g
Packaging Individually packed in polybags
200 face shields per box
Shipping box: 69 x 38 x 35 cm
Standard EN166
PPE category Category II
Further information:-
• This face shield protects against drops and splashes of liquids. Thus, it reduces the risk of a droplet infection.
• Due to its design, complete protection against viruses, bacteria or other biological agents is only given to a limited extent.
• This face shield is only to be used by medical personnel or rescue workers and only for the duration of the current health threat.
• Can be combined with face protection masks which are not included.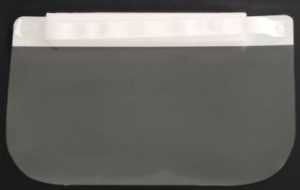 Faceshield laid flat