Face Shields for hairdressers and barbers
 
The Barbers At Reddoor, Chester

Face Shields – made in the UK – for hairdressers

Hairdressers, barbers and hair stylists looking for face shields (or visors) can order from Lasermet – the UK manufacturer.
You can re-use the professional quality face-shield (depending on local infection controls required).
Just clean the Face Shield with Sani-cloth Universal Wipes or similar disinfection wipes. You can then re-use the face shield after cleaning. Remember to follow local infection control rules. If reused, this PPE must be issued to one single person and only used by that person.
| | |
| --- | --- |
| Qty. | Price Each |
| 1 | £4.95 |
| 10 | £4.45 |
| 100 | £3.95 |
| 1000 | £3.45 |
For larger or different quantities please contact us at

[email protected]

Prices are subject to delivery costs by courier
Prices are now subject to VAT at the standard rate of 20%.
Please order LMX-FSH-1 from our online shop at www.lasermet.shop  
   
The Barbers At Reddoor, Chester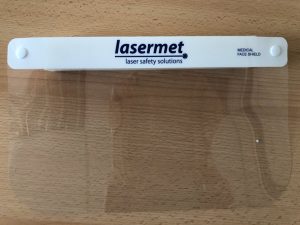 Faceshields laid flat on table and in packaging
Sutable for any head size
24mm headband width
The wide, 35mm soft foam padding is comofortable for extended use
Designed to be used as PPE in potential coronavirus locations when combined with facemasks
The faceshield stops any sprays or fine fluid water droplets
(It isn't designed for protection against mechanical hazards)
This is a Youtube link to BBC South where Lasermet Faceshields are being used by staff at Bournemouth Hospital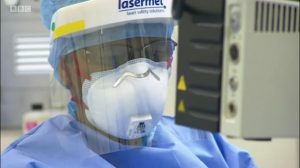 Photo clip courtesey of BBC South showing staff wearing the Lasermet Faceshield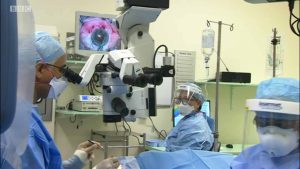 Photo clip courtesey of BBC South showing staff in Operating theatre
Specification

The Faceshields are CE marked
They are tested to EN166
Transparent Shield
Headband Colour is white
Dimensions are 330 x 200 mm
Weight just 25 g
Individually supplied in polythene bags
General Information:-
This face shield reduces the risk of infection acquired from fluids / droplets
Intended to be used in combination with certified face protection masks covering the nose and mouth
Call Lasermet on 01202 770740 or email

[email protected]

or order online