Rhino laser blocking curtains
Cost effective, certified laser blocking curtains for low and medium powered lasers
THE RHINO RANGE IS DISCONTINUED. 
Please refer to the Orca or Wolf ranges of laser blocking curtains.
The following information is for reference only…
Ideal for use with Class 3B or expanded Class 4 lasers
Lasermet's Rhino Range of Laser Safety Curtains is made from a specially developed laser-blocking material and is supplied ready-made as ceiling or wall-mounted curtains.
The grey material operates as a blackout curtain and a laser blocking curtain and is ideal for laboratories and manufacturing facilities.
Ideal for use with Class 3B and expanded Class 4 lasers, the material is tested in accordance with EN IEC 12254 – Screens for laser working places. The results are shown below for the various wavelengths.
The top of the curtain has eyelets every 150 mm and the curtain is supplied with a stainless steel hook for connecting to a curtain track.
The curtain material weighs 900g/sqm. Heavy duty curtain tracks can be used and for applications where the curtain needs to be suspended below the fixing points, high-quality cubicle curtain tracks are available.
The "Rhino" range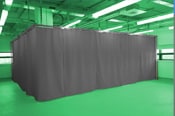 Rhino laser safety screens: Testing Basis DIN EN 12254
Laser Operating Mode
Scale No.
Laser Operating Mode
Scale No.
Laser Operating Mode
Scale No.
Wavelength nm
Certification mark
D
AB7+
IR
AB2
LM
180-315
DIN-Geprüft
D
AB5+
IR
AB7+
M
AB6Y
315-1050
DIN-Geprüft
D
AB4+
IR
AB7+
M
AB6Y
1050-1400
DIN-Geprüft
DI
AB3
1400-11000
DIN-Geprüft
Tested in accordance with BS EN 12254: 2010. Screens for laser working places – Safety requirements and testing