Wolf laser blocking curtains
Cost effective, certified laser blocking curtains for low and medium powered lasers
Ideal for use with Class 3B or expanded Class 4 lasers
Lasermet's Wolf Range of Laser Safety Curtains is manufactured from a specially developed laser-blocking material. It is supplied ready-made as a ceiling or wall-mounted curtain.
The grey material will operate as a blackout curtain as well as a laser blocking curtain and is deal for use in laboratory and research establishments as well as manufacturing environments.
Ideal for use with Class 3B and expanded Class 4 lasers, the laser protection times given by the material at various power densities are shown in the PEL specifications.
The top of the curtain has eyelets every 150mm and the curtain can be connected to a curtain track using the stainless steel hooks provided.
The curtain material weighs 900g/sqm. Heavy duty curtain tracks can be ordered for smooth operation. Instances where the curtain has to be suspended below the fixing points, high-quality cubicle curtain track is also available.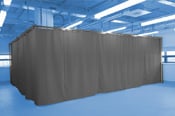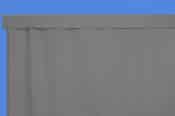 PEL Ratings: BS EN IEC 60825-4
| | | |
| --- | --- | --- |
| Irradiated Area | PEL (T3) 10s | PEL (T2) 100s |
| 4mm² | 248 kW/m² | 140 kW/m² |
| 2000mm² | 124 kW/m² | 70 kW/m² |
The Wolf laser blocking curtain has also been known as the Blackcat laser blocking curtain.