Cabines de protection laser – LASER CASTLE
Les cabines de protection Laser protègent le personnel des dangers liés au rayonnement laser en absorbant la puissance du laser dans des parois et plafonds spécialement conçus.


Ces cabines laser modulaires et dimensionnés de classe 1 – pour les lasers de forte puissance – sont testées et certifiées ANSI Z136.1 – (Règles de sécurité des lasers) et EN 60825-4 (Sécurité des produits laser Chap 4 – Sécurité laser) sont conçues rapidement, montées et installées par Lasermet.
---
Elles sont fournies équipées du système de contrôle de verrouillage Lasermet à deux messages, en deux couleurs, basse tension, signalisation lumineuse à LED.
Un dispositif d'alerte audio Lasermet peut également être installé.
Un système de vidéosurveillance (simple ou haute définition) couvre intégralement les opérations à l'intérieur des parois de la cabine et de l'espace est prévu pour un système de ventilation ce qui constitue une méthode facile et rentable pour confiner le système laser, répondant alors aux normes internationales de sécurité laser.
Option de mise à jour active "laser Jailer"
La cabine de protection passive peut évoluer en cabine active grâce aux spécificités du brevet du système de protection laser actif « Laser Jailer » (Brevet US No. 8 416 820)
Des carreaux de détection laser tapissent l'intérieur de la cabine : les murs, le plafond et les portes afin de détecter les frappes puissantes des faisceaux laser
Si cela se produit la technologie de sécurité de Lasermet confine la sécurité laser en moins de 50ms.
La machine Laser répond au signal de terminaison et la radiation laser est suspendue.
---
Ventilation
Dans l'exemple présenté ici, deux ventilateurs sont intégrés dans la paroi arrière afin de permettre à l'air de pénétrer dans la cabine. La photo principale montre un système de ventilation dans la paroi latérale.
Evaluations PEL
Les panneaux sont testés et conformes aux évaluations PEL
Zone irradiée                PEL (T3) 10s                 PEL(T2) 100s
4mm²                                   310MW/m²                    170MW/m²
2000mm²                            3.1MW/m²                     1.7MW/m²
---
Spécifications ANSI Z136.1 et EN ISO 13849-1
Afin de satisfaire aux exigences de sécurité ANSI Z136.1 and IEC 60825-1, la cabine exige un système de contrôle de verrouillage de sécurité incluant des panneaux d'avertissement LED.
Le système de contrôle de verouillage ICS-6 "ELISe" satisfait au niveau de performance e (PLe) of ISO 13849-1 et a une conformité idéale au niveau de sécurité laser requis.
---
Equipement et conception du système, fabrication et installation
Le système est comprend une cabine constituée de panneaux construits en conformité avec la sécurité laser en particulier au standard de sécurité laser EN IEC 60825-4. Les panneaux sont reliés entre eux (incluant un toit) et sont constitutifs de la cabine.
Portes
Des doubles portes coulissantes permettent un accès maximal à la cabine en utilisant un minimum d'espace. De simples portes à charnières sont également disponibles.
---
Panneaux d'avertissement lumineux
Deux messages, deux couleurs, des panneaux d'avertissement lumineux au-dessus de la porte indiquent le statut du laser en mode piloté par le système de verrouillage. Le panneau d'avertissement LED, incluant le triangle d'avertissement du laser, indique « Danger Laser en service » en rouge lorsque le laser est en service et indique « pas de danger laser hors service » lorsque le laser est éteint
---
Système de vidéosurveillance en circuit fermé
Un système de vidéosurveillance est installé dans la cabine. Un ou deux cameras pilotées à distance sont opérationnelles à l'intérieur de la cabine. En cas d'installation de deux caméras, une commande de joystick permet le contrôle de chaque caméra à travers le contrôle des moniteurs vidéo.
Circuit électrique
Le câblage électrique parcourt la cabine dans des gaines confinées.
Incendie
Un incendie peut facilement être éteint si rapidement combattu avec un extincteur de type à eau, CO2, à poudre ou BCF.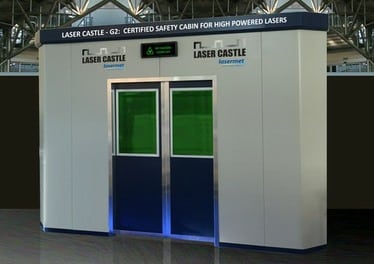 ---
Fumées et émanations
Les parois brûlantes dégagent du monoyde de carbone et du styrène. La quantité dégagée est moins importante que celle émise par le bois et les autres matériaux de construction d'après des tests comparatifs. Le danger lié à la fumée est similaire à celui observé dans les matériaux de construction, de décoration et d'emballage.
Nettoyage et entretien des panneaux
Les parois peuvent lavées au jet d'eau ou avec un seau d'eau. L'eau utilisée pourra être portée à 60°C.Une solution d'eau et de Tepol ou un détergent non agressif pourront être utilisés afin d'éliminer le gros des saletés, puis rincer à l'eau propre.
Conformité Laser Castle
Les cabines sont conformes aux normes standards de sécurité laser et autre normes listées ci-après
2006/42/EC Directive des machines
2004/108/EC EMC Directive
ANSI Z136.1 Règles de sécurité des lasers
IEC 60825-4 Sécurité des produits laser Chap. 4
ISO 13849-1 Sécurité des machines : Parties des systèmes de commande relatives à la sécurité
IEC 60947-1 Mécanismes de connexion et de contrôle basse tension
IEC 61010-1 Exigences de sécurité pour le materiel électrique