Coronavirus testing pods – FAQs
Lasermet are suppliers of coronavirus testing pods and are listed as Manufacturers of Coronavirus Testing Pods.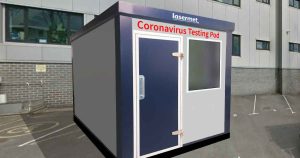 The following FAQs address some of the questions asked about these pods or portable buildings for coronavirus testing.
FAQs
Who makes testing pods?
A. Lasermet manufacture the complete covid-19 pods as they form part of the range of modular buildings that Lasermet manufactures primarily for the laser safety industry.
Where are the testing pods made?
A. Lasermet has a manufacturing facility in Haydock between Liverpool and Manchester. The company uses locally UK sourced components and materials wherever possible to encourage the use of local and UK based companies.
How big are the pods?
A. Because the pods are built based on a modular design, they can be arranged to accommodate virtually any size requirement.  The bonus is that they can be increased in size – on site – by the addition of panels. They can also be dismantled, moved by hand if necessary, and rebuilt.  The is very useful in cases where access for portable cabins is restricted.
Is Lasermet a UK company?
A. Yes – Lasermet is privately owned by UK Directors.
How much is a coronavirus testing pod?
A. This very much depends on a number of factors such as the specification, the dimensions and the equipment fitted, as well as the installation destination and logistics factors.
How long does it take to get a pod?
A. As the pods are manufactured in the UK, the delivery times can be days from the receipt of order. However, this is also dependent on the size of the CV19 test pod, the specification and any special customer requirements and the number ordered. In times of high demand this lead time can increase so it always pays to order at the earliest opportunity. Contact Lasermet for the latest delivery dates.
Can the pods be used for other purposes?
A. Yes. We make coronavirus testing pods that can be also used as isolation pods, cold room storage or as offices. They are modular, portable and adaptable.